Meet us this summer!

Now you have the opportunity to meet us and get to know everything you need to know about IQOS. We are also happy to share tips and advice on how to use and take care of your IQOS.
During the summer, we will bring IQOS aroun Sweden. With our mobile stores, we will travel around to spread our vision of making Sweden the first smoke-free country in the Nordic region. During the summer, our mobile stores and IQOS experts will visit several different locations. Further down you will find a specified list of the places and places where we will be located.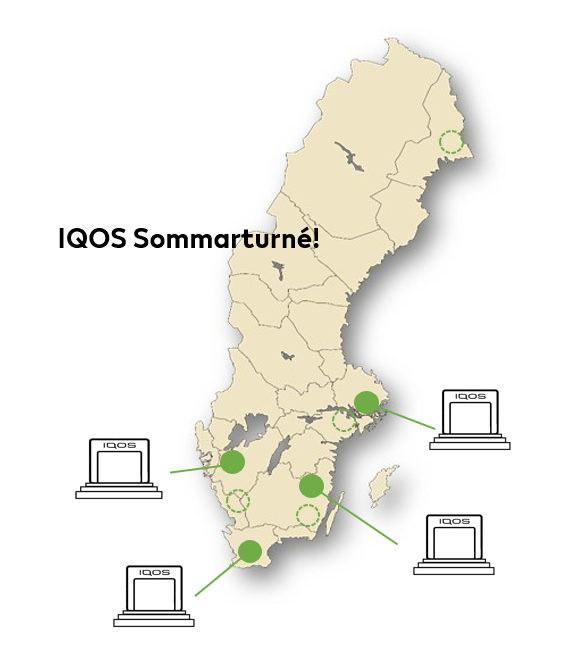 Here are the places we will visit during the summer. We will release more locations in the future - do you not want to miss any news? Create an account and agree to receive communications from us to receive our newsletters.
Find us here this summer:
| | | |
| --- | --- | --- |
| JUNE | | |
| Place | Date | Week |
| Bro Hof golf event | 5, 19 juni | w.22,w.24 |
| Paddy's Malmö | 4, 11, 18 juni | w. 22-24 |
| Rasta Götene | 31 maj - 6 juni | w.22 |
| Rasta Hallandsåsen | 14-20 juni | w.23 |
| Rasta Kalmar | 21-24 juni | w.25 |
| Rasta Värnamo | 7-13 juni | v.23 |
| Simson Västervik | 30 juni | v.26 |
| Strömma Krog & Bar | 26, 27, 30 juni | w.25-26 |
| Västervik camping | 28-30 juni | w.26 |
| | | |
| JULY | | |
| Place | Date | Week |
| Bro Hof Slott GK | 3, 17, 31 juli | w.26,28,30 |
| Båstad Hamn | 12 -31 juli | w.28-30 |
| Kronocamping Lidköping | 15-22 juli | w.28 |
| Simson Västervik | 1-3, 8-10, 28-31 juli | w. 26,27,30 |
| Strömma Krog & Bar | 1-4 juli | w.26 |
| Västervik camping | 1-11, 26-31 juli | w.26, 27, w.30 |
| | | |
| AUGUST | | |
| Place | Date | Week |
| Bro Hof Slott GK | 14, 28 aug | w.32-33 |
| Simson Västervik | 4-8 aug | w.31 |
| Strömma Krog & Bar | 11-15, 11-22 aug | w.31-32 |
| Vaxholm Boulangerie Bistro | 4-8, 11-15 aug | w.31-32 |
| Västervik camping | 1-8 aug | w.30-31 |